We Are Not Only Changing the Education Discourse, We Are Also Changing Its Course!
It is the beliefs of teachers, administrators and school boards, NOT poverty that is responsible for poor student achievements.
When recent convert Diane Ravitch and other so-called liberal educators contend that poverty, not the beliefs of teachers, administrators and school boards, is responsible for poor student achievement, they are dead wrong.
If Ravitch and cohorts were right then the achievement of the Robert L. Vann Elementary School in Pittsburgh was a hoax. But it was not a hoax. Up until 1996-97, the Vann School was a top achiever in the entire city of Pittsburgh. The children were Black, raised in poverty, many by single parent mothers. There was crime in the neighborhood, as in many economically deprived communities of any color or nationality.
Dr. Barbara A. Sizemore in her research "An Abashing Anomaly: Hardly Anybody Wants Something All Black To Be Excellent" verified the success of the Vann School as one of the highest achieving in the entire city. The school was located in the Hill District, written about in many of August Wilson's plays, one of the city's poorest districts.
Dr. Asa G. Hilliard III also verified the high achievement of the Vann School in his DVD "The Vann School: A History of Success in Pittsburgh". What accounted for the success of the Vann School? Basically, the Principal, African American Doris Brevard, believed and convinced her teachers, Black and white, that the children were capable of excellence and that they, the teachers, were capable of excellent instruction. Doris Brevard was that rare principal who was willing to commit her career and her allegiance to the achievement of the children and their community, not to the superintendent or the school board.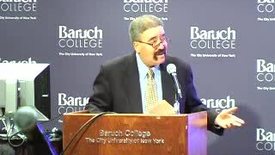 Dr Donald Smith
Ms. Brevard was willing to be punished for her philosophy. Another example that defies popular theory on education and poverty is the Crispus Attucks School in Brooklyn, NY whose principal was the brilliant Adelaide Sanford, later Vice Chancellor of the New York State Board of Regents.
The Attucks School was the highest achieving inner city school in New York City. Yes, the children were Black and mostly poor, and Dr. Sanford and her teachers were proud of their children. Under her strong leadership Dr. Sanford's teachers believed that the children were capable of excellence and, like the Vann teachers, that they were capable of providing excellent instruction. Dr. Sanford was punished for her deviance from the expected norm of low achievement for Black students, some of whom have gone on to extraordinary careers.
I grew up in poverty on the very poor Black Southside of Chicago. My mother, who gave birth to me at age 19, and I survived on welfare and food stamps. We lived in a single room in wretched tenements. Television, refrigeration and air conditioning were non-existent. But at my all-Black Wendell Phillips Elementary School whose children were as poor as I was we had some loving Black teachers who taught at a high level of expectation and who encouraged all of us, and we achieved.
No, Dr. Ravitch, it is not poverty that produces poor achievement. It is the belief of teachers and administrators of any ancestry who have grown up and been educated in a racist educational environment and have low expectations for poor Black or Brown children that fulfills the prophecy. We are now at that very moment when communities of color have no choice but to seize control of the education of their children and demand academic and cultural excellence for all of their children.
All righteous minded educators, parents, youth, administrators, elected officials, civic minded business and community people should join us in this power-filled moment of changing the course of public education everywhere!
Donald H. Smith, Ph.D.
Former Chair of Education, Baruch College, CUNY
Former Chair of the New York City Board of Education's Commission on
Students of African Descent
June 23, 2014